Restarting activities from 12 April 2021
From 12 April 2021, additional premises will be able to reopen.
This includes:
Outdoor gatherings still limited to 6 people or 2 households
Non-essential retail can re-open
Personal care premises such as hairdressers, salons and close-contact services can reopen
Indoor leisure facilities such as gyms and spas can reopen
Overnight stays away from home in this country permitted
Public buildings e.g. libraries and community centres can reopen
Majority of outdoor settings and attractions can reopen
Hospitality venues open for outdoor service, with no requirement for substantial meal and no curfew. Requirement to order, eat and drink while seated ('table service') will remain
Work from home where possible
Minimise domestic travel where possible
All children can attend any indoor children's activity
Parent and child groups of up to 15 people can restart indoors
For more information, please visit the GOV.UK website.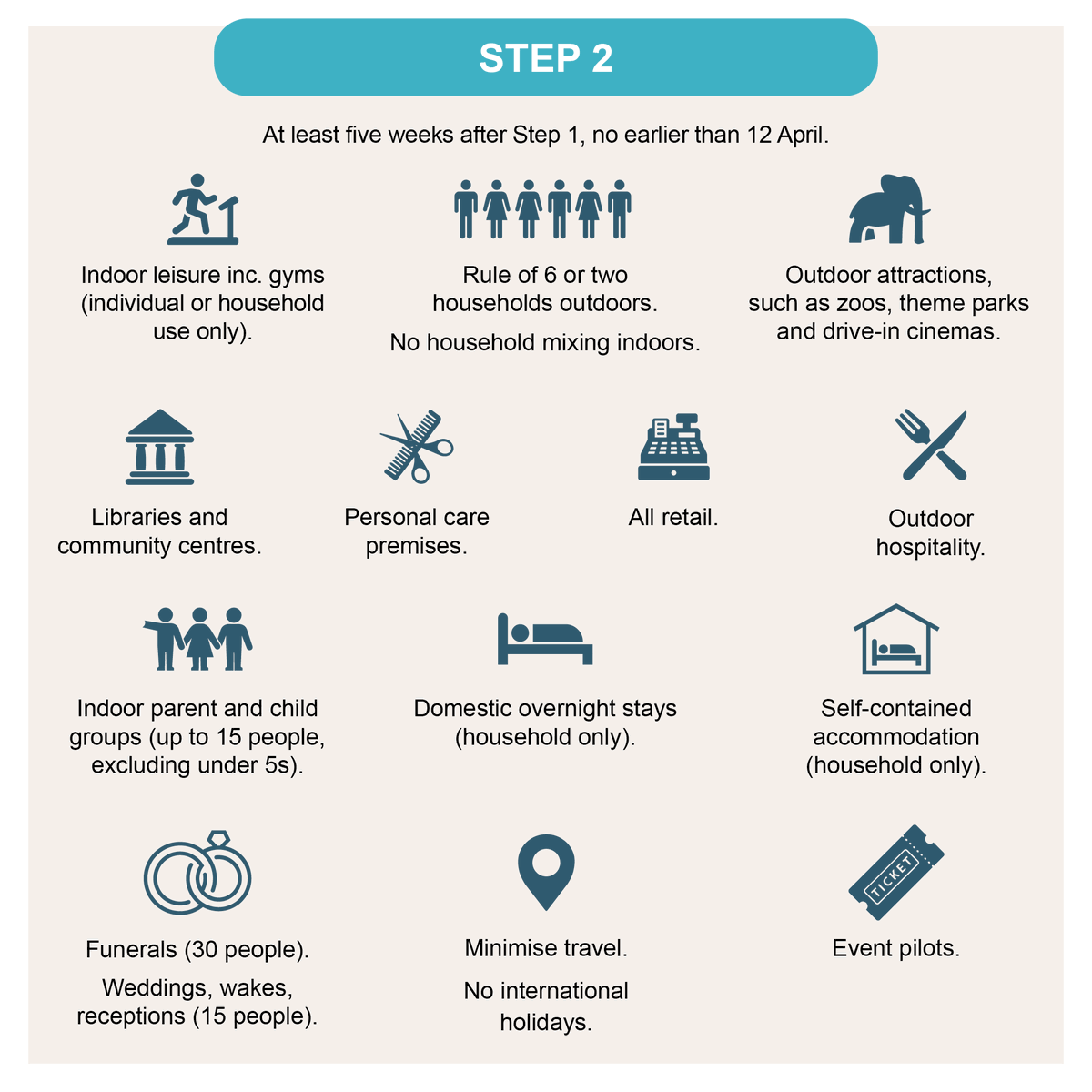 ---
Guidance for venues
There is a higher risk of transmitting COVID-19 in premises where customers and visitors spend a longer time in one place and potentially come into close contact with other people outside of their household.

To manage this risk, establishments in the following sectors, whether indoor or outdoor venues or mobile settings, must request contact details from staff, customers and visitors, and display the official NHS QR code poster:
hospitality, including pubs, bars, restaurants and cafés
tourism and leisure, including hotels, museums, cinemas and amusement arcades
close contact services, including hairdressers, barbershops and tailors
community centres, libraries and village halls
For more information, please
visit the GOV.UK website
. A full list of organisations within scope in these sectors can be found in
annex A
Restarting activities from 12 April 2021